June 24, 2011
Our town had the local fair in early June. It was the first year we attended since buying our house. Crazy but before kids we really did not have a reason to attend. Now that Ozzie is almost three, he clearly enjoyed himself!
Ozzie called this the HUMONGOUS slide!
Terrified!
Safe to say he was glad that was over and did not want to go again.
Flying the airplane to Paris just like the stork in one of his favorite books.
On the train
Giving his ticket to the conductor
The bumper cars were his favorite.
Olivia and I ate elephant ears and watched from the sidelines.
... okay summer is here in Seattle some days. When the sun does come out, Ozzie's ready!
Dragging his slow down sign on to the street.
Wait, playing with the flag is fun!
And chasing the neighborhood girls is even more fun!
Olivia and I enjoyed watching from the front porch.
June 19, 2011
I loved our Father's Day cards this year! I received a coupon for free cards from Shutterfly (excluding shipping)and made both Oscar and my Dad personalized cards for less than two Hallmark cards. I just love how they turned out!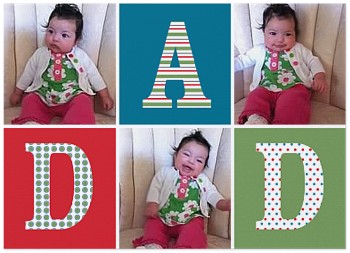 Alphabet Blocks Father's Day 5x7 folded card